FA Note: iAgenda21 is an affiliate of the American Coalition for Sustainable Communities (ACSC) – "Sustaining representative government." Theirs is the type action that needs to be undertaken in every county in the country!
New Report exposes collectivist regulation, instituted at taxpayer expense, in San Bernardino County, California. The report is authored by the American Coalition for Sustainable Communities (ACSC) whose mission is "Sustaining Representative Government".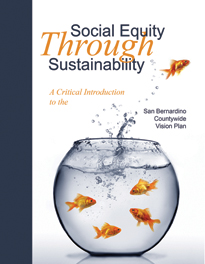 Report Key Findings
The San Bernardino Countywide Vision, through its "Cradle-to- Career" goal, aka, Common Core; the Common Core State Standards (CCSS) are a set of academic standards, promoted and supported by two private membership organizations, the National Governor's Association (NGA) and the Council of Chief State School Officers (CCSSO), as a method for conforming American students to uniform ("one size fits all") achievement goals to make them more competitive in a global marketplace and compliant "global citizens".

The San Bernardino Countywide Vision is defined as a "Regional Visioning Plan", which usurps our elected representative form of government and encourages top-down control.

The San Bernardino Countywide Vision Plan advocates a consensus based decision-making process via unelected businesses, nonprofits, agencies, boards, bodies and commissions via "stakeholder groups", thereby circumventing the citizen voting process.

The San Bernardino Countywide Vision Plan promotes environmental sustainability

* programs, which are antithetical to free market systems, local property rights and local choice, by defining them as destructive to the environment.

The San Bernardino Countywide Vision Plan promotes social equity through sustainability as a method to reduce standards of living via collective conservation schemes that limit current lifestyles in order to protect resources for future generations; by "looking beyond local interests" and mandating that all benefit equally for the common good.
Report Summary
This report is a critical review of some of the elements and regional goals, (see elements and goals below) of the San Bernardino Countywide Vision Plan. Specifically, the education, environment and water elements are addressed, as well as the cradle-to-career regional education goal (Common Core). There is added emphasis presented regarding the water crisis in California. Also discussed are programs under the umbrella of the Countywide Vision Plan. Some of these programs support elements of the plan, such as habitat preservation and water conservation. A County sanctioned nonprofit fundraiser is discussed. A wrap up is presented identifying some of the potential pitfalls of the plan along with prospective solutions. Finally, the Appendix offers common answers about the Common Core education standards by Dr. J. David Lehman.
The Countywide Vision Plan
What appears to have started out as an idea to curb corruption in San Bernardino morphed into a collaborative centralized plan. The collective goal of the Countywide Vision Plan can be summed up in this statement:
"Recognizing the constraints declining revenue has placed on governments; we must build new, and expand existing, partnerships among public agencies, businesses, and nonprofit and faith-based organizations. We must set goals for the county and region that look beyond our individual interests."
Initial funding for the plan was $300,000: $50,000 provided by SANBAG and $250,000 provided from the county general fund. The plan introduces ten elements and two regional goals to promote social equity in the county. In lieu of our representative voting process, a survey was conducted to include citizen and resident input for the plan. 3,656 responded. The total population for San Bernardino County in 2010 was an estimated 2,000,000, which means that 0.18% of the total population in the county participated in this "representative" survey.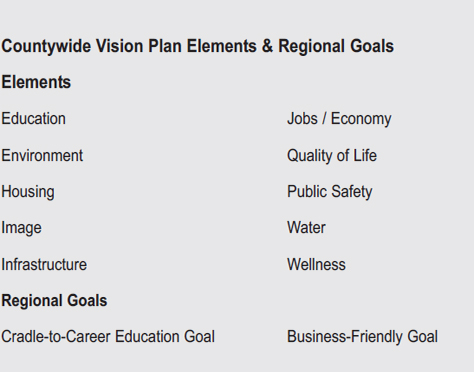 Solutions
Read the Social Equity Through Sustainability Report: Order @ Amazon, Download PDF version.
Opt your child out of the Common Core testing. Get the form here.
Cities in San Bernardino can opt out of the Countywide Vision Plan via a resolution. Click here to see sample.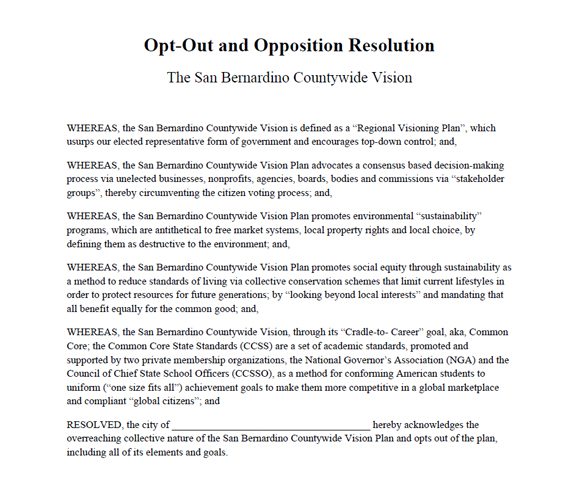 Elected Officials Can Opt Out
Commissioner Haddox OPTS OUT of the Regional Seven50 Plan: motion calling for Martin County FLA to withdraw from the Seven50 plan.
*Source: www.sustainablefreedomlab.org